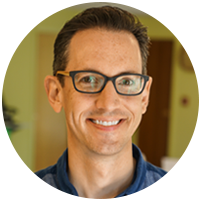 Dave Hemmerle
Greenbush Lead Pastor
Dave Hemmerle is originally from Pennsylvania and currently lives in Wynantskill with Virginia, his wife of 16 years, and their four children, Sarah (17), Jean-Pierre (13), Tessa (11) and Camille (8).

After graduating from high school Dave attended Lafayette College, where he was a Biology/PreMed major. Instead of going on to heal bodies, Dave decided to heal souls by working in Campus Ministry. Part-time, Dave pursued his Master of Divinity at Biblical Theological Seminary in Philadelphia, PA. After graduating seminary in 2002, Dave and Virginia were called to serve the Lord internationally as missionaries with ReachGlobal, first in France and then in Canada. In Canada, Dave initially partnered with a local church to provide strategic leadership to help them grow from one service, at one location, in one language to four services, at two locations in two languages. During the second half of his time in Montreal, Dave's ministry expanded to include coming alongside local leaders all across the city and province to catalyze church multiplication.

In 2015, Dave and Virginia sensed God's call back to the United States and in the process found out about the opportunity to become Lead Pastor at Grace Fellowship Greenbush. Pastor Dave appreciates our church's healthy leadership culture and commitment to multiplication as a way to make more and better disciples.

Pastor Dave enjoys playing golf and tennis, reading a good crime drama and lingering over an espresso. French culture has been a big influence on Dave and so, if you are invited over for dinner, don't be surprised if they serve a cheese course. Now that he lives in the beautiful Adirondacks he is looking forward to getting back into rock climbing.


Life Verse:
"And the things you have heard me say in the presence of many witnesses entrust to reliable men who will also be qualified to teach others."
2 Timothy 2:2