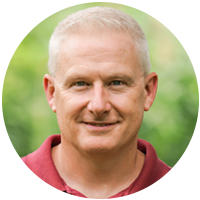 Dr. Frank Deno
Executive Pastor of Operations
Frank Deno is the man responsible for Grace Fellowship Central Operations teams. This would include Administration, Communications, IT, and Global Missions. That task is a large one, but there is no doubt that Frank is just the person to get things done right. Frank and his wife Christa have been married since 1996, and have two children, Jasmine and Jared. They currently live in Frank's hometown of Clifton Park, NY.

Frank spent his early years in the Baptist church his parents attended, where he was introduced to Christ but never made a commitment.

At age 18, Frank joined the U.S. Army, traveled until age 25. When he returned home, he went on to complete his Bachelors Degree in Mathematics and Computer Science as well as his MBA at SUNY Albany. During his undergraduate studies, Frank felt called back to his old church where he came to know Christ and committed his life to the Lord.

Shortly before their marriage, Frank and Christa were searching for a church to call home. After their first visit to Grace Fellowship, they agreed to apply themselves there. They began attending regularly and volunteering in the youth ministry before Frank was offered an official position as a full-time staff member.

When Frank is not hard at work, you may find him outdoors—biking, hiking, kayaking, or just hanging with his kids. One day he would like to summit one of the Big Seven peaks, preferably Denali, and scuba dive the world's deepest hole…. wherever that might be. Always living on the edge, Frank is willing to go the extra mile to make more and better disciples.

In his years at Grace, Frank says what he has most enjoyed is the people on his teams. He also appreciates the numerous opportunities that are provided at Grace to be involved and to grow. Frank's favorite verses are Mark 12:30-31 because of how his life was changed when he committed to follow Christ.


Life Verses:
"Jesus replied: 'Love the Lord your God with all your heart and with all your soul and with all your mind.' This is the first and greatest commandment. And the second is like it: 'Love your neighbor as yourself.' All the Law and the Prophets hang on these two commandments."
Matthew 22:37-40