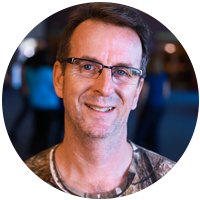 Rich Kiernan
Custodian
Richie Kiernan is the custodian at Grace Fellowship Latham. He feels honored to be responsible for the day-to-day cleanliness of Grace Fellowship, making sure the facility is pleasant and inviting to the eyes and souls of all who enter each and every day.
Richie considers himself a blessed individual to be associated with such a great group of staff and volunteers. The daily opportunity to tell strangers who enter Grace's door about who we are, what we believe and how we came to be at this location is one of the biggest joys to working the "Front Lines" at Grace.
Richie's fascinating story about coming to know the Lord began in 1975 when he and two other friends offered a ride to a hitchhiker (as well as his two German shepherds) who happened to be carrying a Bible. A two-and-a-half hour conversation about God ensued, and Richie came to know the Lord on that day. He has attended Grace Fellowship since 1993 and likes the biblically based sermons that can be applied to real life situations as well as the sincerity and friendship that has ensued over the past 20 years with Dr. Rex Keener.
He was married in 1987 to his wife Kathleen, and they have an awesome son named Daniel. Richie would like to travel to Alaska some day, and cites New York City and Maine as his favorite locations.
Life Verses:
"Brothers and sisters, think of what you were when you were called. Not many of you were wise by human standards; not many were influential; not many were of noble birth. But God chose the foolish things of the world to shame the wise; God chose the weak things of the world to shame the strong."
1 Corinthians 1:26-27